EE.UU. confirma que trató de sobornar e intimidar al capitán del barco iraní después de haber intentado la "piratería"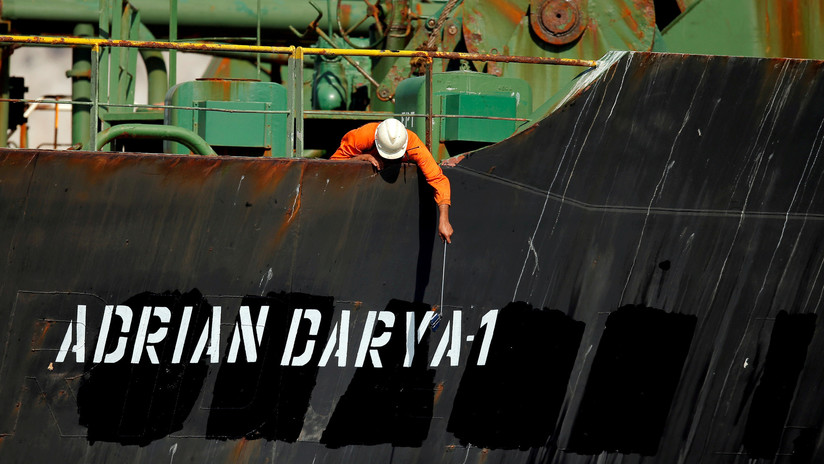 The Financial Times reportó que el representante especial de EE.UU. para Irán, Brian Hook, ofreció al capitán del barco Adrian Darya 1 millones de dólares y le amenazó con una vida "mucho más dura" si no los aceptaba.
El Departamento de Estado de EE.UU. ha confirmado a
The Hill
que su representante especial para Irán, Brian Hook,
escribió
al capitán del barco iraní Adrian Darya 1, sospechoso de transportar crudo a Siria, por correo electrónico en un intento de convencerlo de que cambiara de rumbo para que EE.UU. pudiera incautarlo.
El buque en cuestión fue detenido en Gibraltar en julio por las autoridades británicas y permaneció ahí seis semanas por las sospechas de que se dirigía a Siria, violando de esta manera las sanciones de la Unión Europea contra el Gobierno de Bashar al Assad. Posteriormente fue liberado —pese a las protestas de EE.UU.— tras comprometerse a no dirigirse a los países sancionados por la UE.
El miércoles The Financial Times divulgó los mensajes de Hook, que transmitió al capitán de origen indio "buenas noticias" al ofrecerle millones de dólares a cambio de que cambiara de curso. Además, le intimidó amenazándole de que si no optaba por aquel "camino sencillo" su vida sería "mucho más dura". En ausencia de una respuesta, Hook escribió al capitán que el Departamento del Tesoro le había impuesto sanciones a él y al barco.
"Hemos visto el artículo de The Financial Times y podemos confirmar que los detalles son exactos", dijo un portavoz del Departamento de Estado a The Hill. "Hemos llevado a cabo extensas actividades de acercamiento con varios capitanes de buques, al igual que las navieras, advirtiéndoles de las consecuencias de proporcionar apoyo a una Organización Terrorista Extranjera", agregó.
EE.UU.
designó
como organización terrorista a los Cuerpos de la Guardia Revolucionaria Islámica, estructura militar de élite del régimen iraní en abril, a lo cual Irán
respondió
catalogando de igual manera a las fuerzas estadounidenses en Oriente Medio.
El ministro de Exteriores de Irán, Mohamad Yavad Zarif, acusó al Gobierno estadounidense de piratería y "chantaje abierto". "Al fracasar en la piratería, EE.UU. recurre al chantaje abierto: entréguenos el petróleo de Irán y reciba varios millones de dólares o usted será sancionado", sintetizó Zarif.